4 Innovative Bathtub Door Designs to Transform Your Bathroom Experience
When most people think about glass in the bathroom, their minds automatically go to those awe-inspiring shower enclosures. But why let showers have all the glory? Bathtub door designs allow you to create captivating glass installations and elevate your space! 
While sliding glass doors remain a common choice, more and more homeowners opt for alternative designs that offer functionality and aesthetic beauty. Below, we'll explore four non-sliding bathtub door ideas that can genuinely elevate your bathing space.
Centered Bathtub Doors: The Perfect Balance
We often get asked whether you can put a door in an existing bathtub. Yes, you absolutely can! One option to consider is centered bathtub doors. Known for their symmetry, these doors give a balanced, visually pleasing appearance. 
The best part? This design provides effortless access to both ends of the tub, which makes cleaning a breeze. Adding towel bars to the door can also lend a luxurious touch to your entire bathtub enclosure.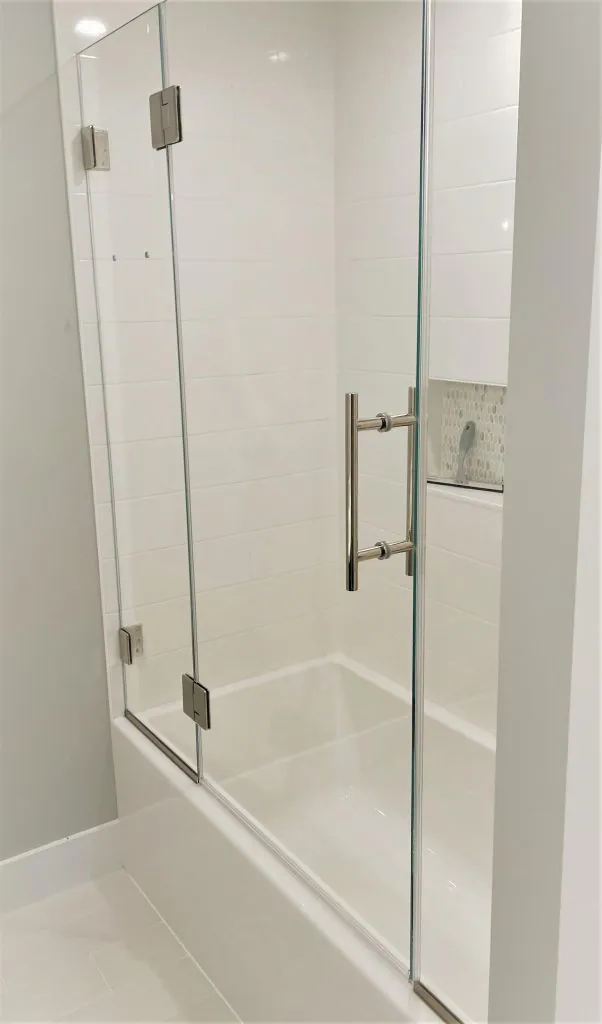 Double Bathtub Doors: For Uncompromised Accessibility
Our customers come to us wondering whether putting glass doors on a bathtub adds value and usefulness. Putting glass doors on your bathtub adds a contemporary look and enhances functionality. 
Double bathtub doors are a perfect example. This uncommon design offers the most expansive opening available in bathtub glass doors. If you have children, this large opening can be incredibly convenient for bathing them, making these doors both stylish and family-friendly.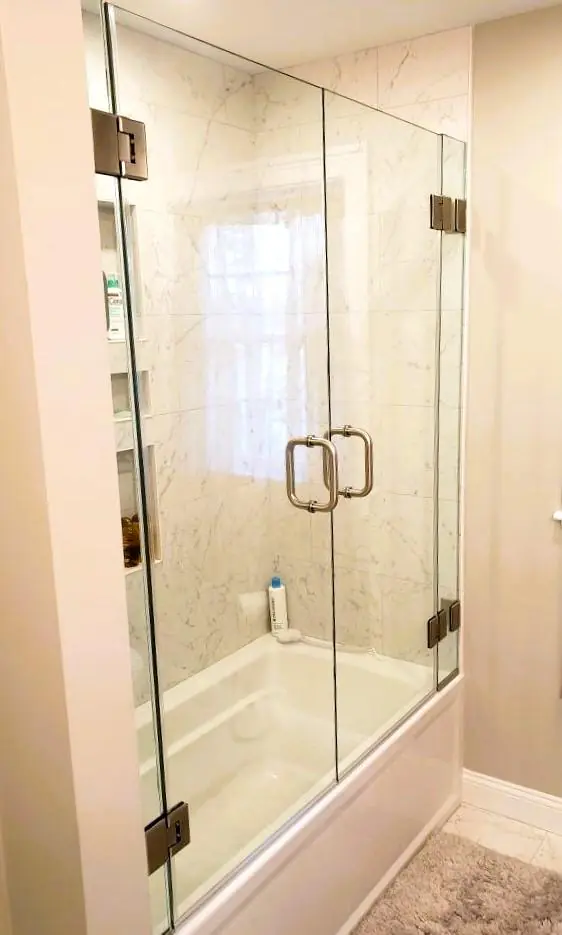 Bathtub Door and Panel: The Classic Choice
The swing shower door is a classic choice for your bathtub that should not be overlooked. Most people may not be familiar with a swing shower door, but it is very common and universally liked by both current and future buyers.
Combining a door and a panel, this design provides a clean and uncomplicated look. It's especially ideal if your bathroom has a more active or colorful tile scheme, as it effortlessly blends into your existing décor.
Bathtub Screen (Fixed Panel): The Budget-Friendly Elegance
What do you call a shower door that doesn't slide? You call it a fixed panel or a bathtub screen! Popular overseas but lesser-known around Boston, Massachusetts, bathtub screens offer a minimalistic yet practical approach to bathtub glass. 
They require less glass and hardware than other designs, making them an economical choice without compromising style. The beauty of the design offers a chance to stand out while keeping a minimalistic aesthetic, and no mess for you to deal with.
Bathtub Door Designs: Some Final Thoughts 
As you can see, traditional sliding designs are only the beginning when it comes to beautiful bathtub door ideas. There are numerous choices to fit your needs, whether you're after something balanced, expansive, classic, or budget-friendly.
If you want to transform your bathroom, explore more of our design guides and tips. If you want a more in-depth breakdown of bathtub door ideas, contact our expert team serving Boston, MA, and surrounding areas.