Door and Window Screen Repair
Ripped or damaged? We can help with door and window screen replacement and repair.
Offering both standard and heavy-duty screen repair on windows and doors. We can repair the screen itself or the screen and frame, custom matching to your existing doors.
Screen doors can be added to nearly every home while maintaining the home's unique look, feel, and charm.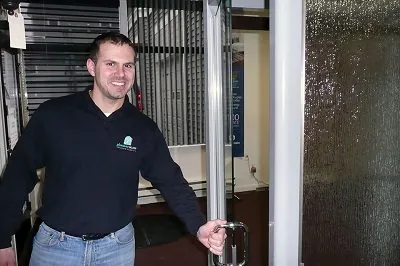 Our experienced, friendly staff is always happy to help.
Standard Screens
Resilient lightweight fiberglass that stands up well to regular use. Screens have long been popular as a way to provide fresh air and connection to the outdoors while protecting against the elements. In styles ranging from standard sliding doors to customized, intricate wood doors.
Heavy-Duty Pet Screens
For those with pets or kids, heavy-duty screens are a great option to stand up to the extra wear and tear so you don't have to use screen tape (pictured). It also works well for traditional hinged doorways that are more prone to contact than a sliding screen door.
"We had some window screens repaired. They were done quickly and look great. We win, bugs lose!"
- Jonathan D. 
"In this day and age of big box stores and online shopping, I appreciate a local company where the owners know you and take the time to work with you, creating an enjoyable and worry-free shopping experience."
- Michelle W.
"Always a good job with a polite, knowledgeable staff. They always call ahead so you know when to expect them.... None of this "we'll be there between 9 and 3" stuff."
- Susan G.
Pioneer provides samples for you to compare in your home, free estimates of all work, and will take precise measurements of the space.
Pioneer Glass provides custom mirror glass services in the Central Massachusetts and surrounding areas, including: Whitinsville, Northbridge, Blackstone, Douglas, Grafton, Hopedale, Manchaug, Mendon, Millbury, Millville, Oxford, Sutton, Upton, Uxbridge, and Worcester. Plus, the Rhode Island counties of Bristol, Kent, Newport and Providence county. And Tolland and Windham county in Connecticut.