Planning and budgeting for a bathroom renovation can be frustrating! Especially when you find out that frameless doors can't be mounted on fiberglass, acrylic shower, or tub.
But don't worry!
Although frameless shower or tub doors won't work on fiberglass or acrylic enclosures, there are still options. If you know what to look for, you can still have a crisp, modern look of frameless glass enclosures.
"Why not frameless?"
Unlike tile, premade acrylic or fiberglass enclosures cannot carry the weight of heavy glass hinges or roller bars. The weight must be dispersed over a wider area and requires shower hardware framing or jambs. You can still have stunning shower glass that will please the most discerning consumers.
Options
Here are the available glass door options, starting with the most frameless look.
.
HMI Capital Series (Sliding Doors)
The Capital Series is an excellent option with its large rollers and interior frameless glass. The side jambs do the heavy structural lifting and add depth to the appearance of the unit. In lighter hardware colors like chrome and brushed nickel, they are relatively unobtrusive.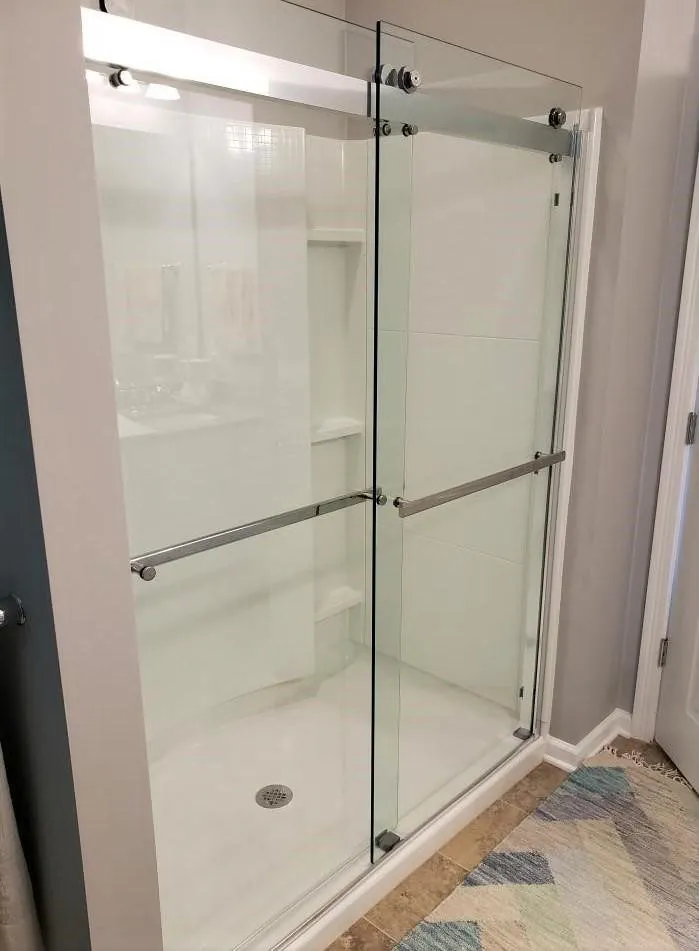 Capital Shower Sliding Doors
Capital Series Tub Sliding Doors
HMI Trufit Series
For those that love the look of bold frameless hinges, Trufit doors, and Trufit enclosures is the perfect choice for a modern look.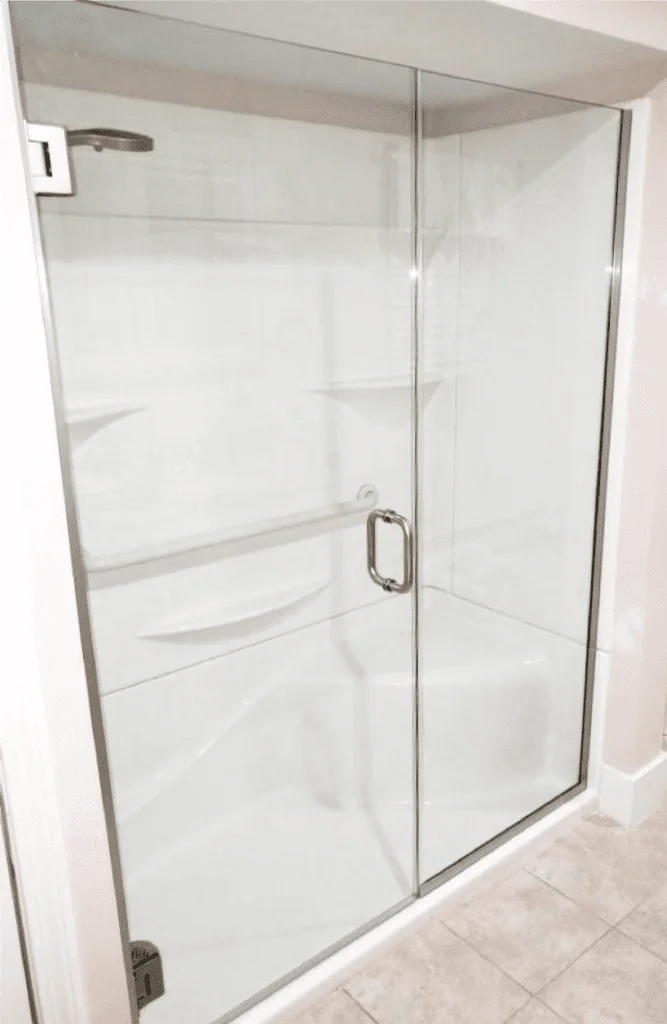 Frameless look for a shower door.
HMI Uptown Grand
The Uptown Grand has a sleek and crisp appearance without any headrail. This shower enclosure is my favorite for fiberglass/acrylic enclosures and my enthusiasm is shared by many customers. With minimal and understated side pivot style hinges, the very little framework is visible
Sleek Uptown Grand Shower Door
Euro Sliding Shower Doors
The Euro Series sliding shower enclosure is a more traditional type slider with hidden rollers and a rounded headrail on both sides. Unlike earlier models, the Euro is now standard with stronger, improved rollers. It is available with 1/4" glass and can be upgraded to 3/8" glass to match the heavy glass used in frameless sliders.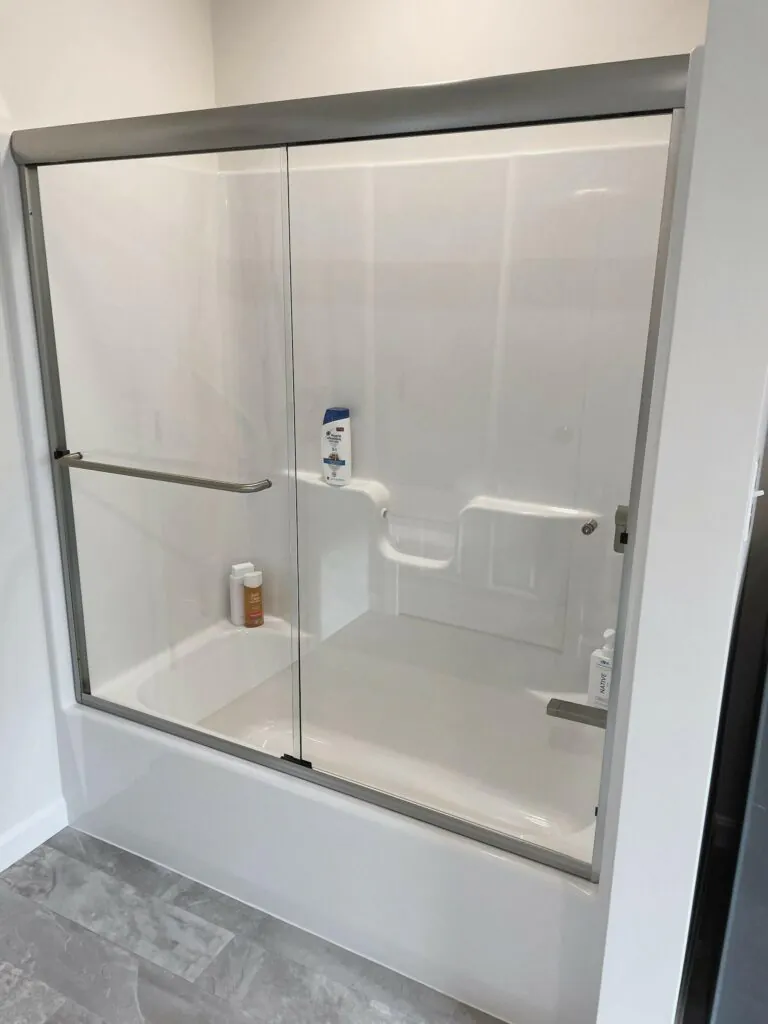 Euro Slider on Fiberglass
Euro Sliding Tub Doors

Classic Series
The Classic Series is a more traditional type of shower enclosure and is available as sliding shower doors or door and panels. While, technically, it is a semi frameless enclosure, the Classic has more metal than most modern shower enclosures. Because the increased metal framing adds structural support, thinner glass can be used and it is generally the least expensive option for shower and tub doors.
HMI Classic "frosted" over tub
HMI Classic Shower Sliding Doors
Neo Angle Showers On a Fiberglass Enclosure
Neo angle showers consist of 3 sides of glass and incorporate two walls of your bathroom. The 135 degree angle in the front saves valuable floor space in this corner shower design and can be opened in most cases without hitting a toilet or vanity. The door is usually in the front but can be on any side that works best in your bathroom.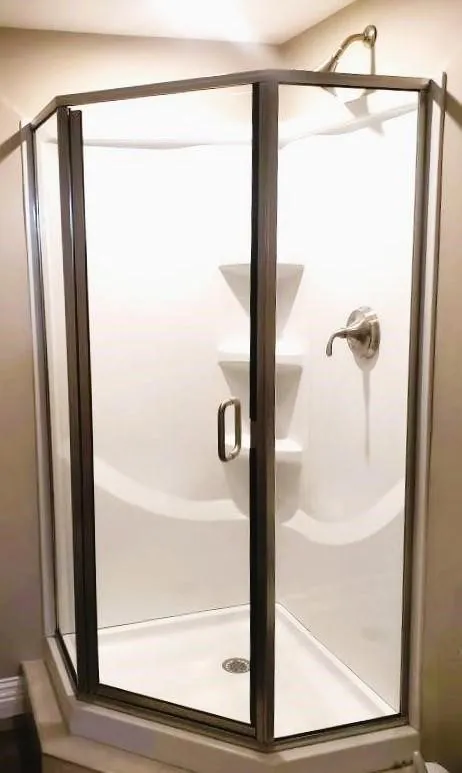 Neo Angle Shower Enclosure over prefab shower
Glass Choices
Most of these units come with a defined glass thickness, though in some cases they can be ordered with thicker glass. While most customers prefer clear glass you can also add in-glass printing or pattern glass to your order. In-glass printing allows you to choose any color in any dimension. This option allows privacy but also provides a top view out, resulting in a less enclosed feeling for the person taking the shower.
Privacy Bands
Privacy bands have soared in popularity as design trends have moved towards a crisp, bright look. They cover the discreet part of the body but still allow an "airy" look and feel desired in today's shower enclosures.
Example of a privacy band.
Privacy Fades
A privacy fade is a very similar product to a band, but at the top it slowly fades away to clear glass.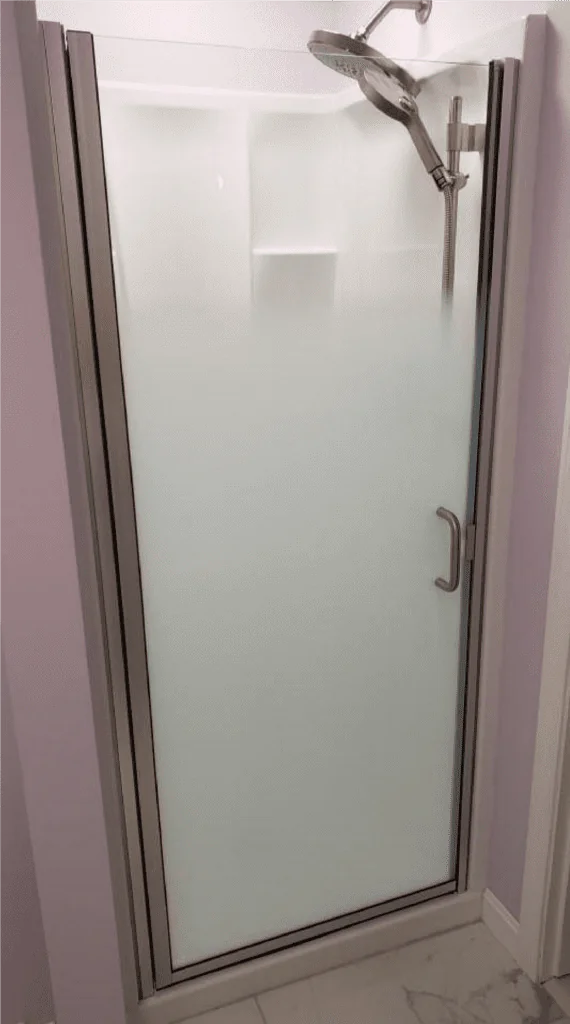 Privacy fade on a fiberglass shower stall
Frosted and Pattern Glass
While many people have switched to privacy bands there is still some interest in pattern glass, most noticeably in frosted (acid wash).
Frosted (acid wash) door and panel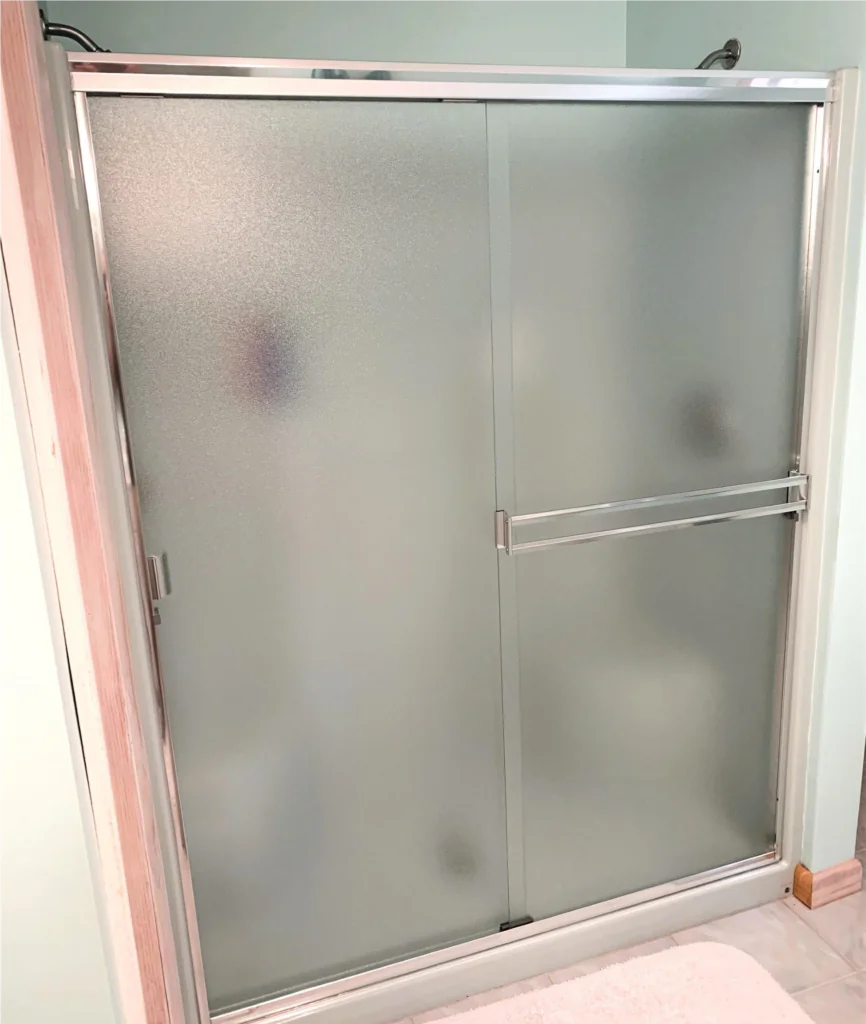 Pattern 62 (sometimes called orange peel) sliding doors
Sliding Shower "Rain" glass doors
Getting Started
A bathroom renovation doesn't have to be a huge ordeal. Even if you have an acrylic or fiberglass shower or tub, you can still enjoy the sleek beauty of sliding glass doors. With Pioneer Glass, you get the look you want and the help you need. Our specialists have an eye for interior design and the training to seamlessly install any glass door. Contact us to get started.
Pioneer Glass. The Look You Want With the Help you Need.